Is hybrid work the new norm or just a trend?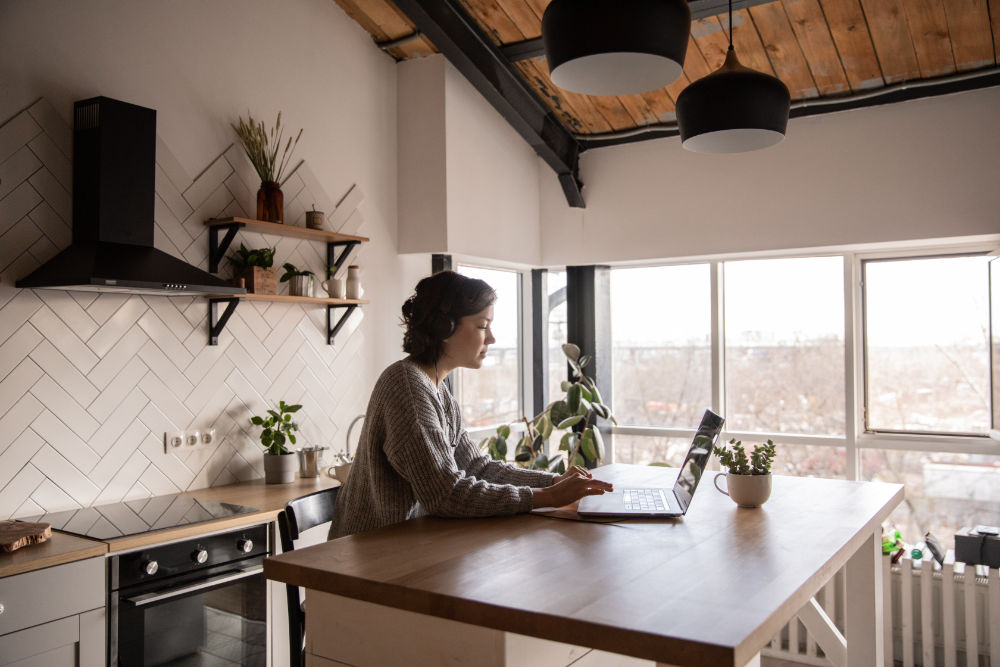 Since the pandemic began, hybrid work has become a part of our daily lives and continues to be a preferred work arrangement. Many businesses nowadays are keen to bring employees back to the offices and restore pre-academic standards. However, it has become clear that job seekers choose positions that either offer entirely remote work or are more in demand as a hybrid working arrangement.
There are various hybrid work models, including:
Hybrid at-will: Enables employees to pick the day(s) they want to come into work in the office.
Hybrid Split-week: When the business designates particular days and remote work by team or function.
Hybrid manager scheduling: Managers determine which day(s) their team attend to work.
Hybrid mix: A combination of the choices.
Nowadays, most businesses use the hybrid at-will working model, demonstrating their trust in their staff members, and giving them the opportunity to choose the days they are most comfortable attending to work on-site. The flexibility of the hybrid working approach is another of its many benefits. However, there is a negative aspect of Hybrid working creating a few disadvantages as well.
Advantages
1. Satisfied and motivated employees
Employees have the ability to choose what will make them comfortable, efficient, and happy when working thanks to the hybrid work model.
2. A better corporate culture
The ability to set their own schedule is one of the things that inspires employees the most. When employees rotate between on-site and off-site work, they are more ready to interact and contribute to the company's mission and vision once they are in their offices.
3. Organisational improvements
Ever since they started using hybrid models, employers have been trying to modify the workplace to resemble the comfortable atmosphere of an employee's home more closely.
Disadvantages
1. When work can be done anywhere, scheduling is extremely difficult.
Large complexity is produced by the degree of flexibility. Does the business run the risk of waste and additional costs such food waste and underutilized technical equipment if there are 200 employees who attending to work on Monday and 20 the following day? Or should they skimp on preparation and risk upsetting their workers?
2. Collaboration with remote workers is more challenging
Employees on-site and off-site may often have problems communicating with each other due to network issues, technical problems with the company's servers, and holding meetings with both groups of employees. In these situations, the employees who are already present in the offices should take note of the people off-site and pause to ask them questions or to ensure the connection is strong throughout the meeting.
3. Quicker employee burnout
In addition to the hybrid model's benefits, such as increased employee performance and quality, off-site workers frequently experience signs of faster burnout. They might occasionally be asked to work longer shifts or resent other workers taking time off to relax at home between shifts.
References
Fowell, T. (2022) What is hybrid work and why do employees want it? Envoy. Available at: https://envoy.com/blog/what-is-a-hybrid-work-model/
Akhter, M. (2022) Benefits and disadvantages of the hybrid work model, Envoy. Available at: https://envoy.com/blog/pros-and-cons-of-hybrid-work/
Using a Recruitment Agency has Advantages
We all understand that a recruiting agency's primary goal is to assist both employers and job seekers in locating the ideal candidate for available positions.
We work with candidates on a regular basis as a recruiting firm, and we are professionals at vetting, interviewing, and analyzing their appropriateness for positions across diverse organisations. Furthermore, we can offer organisations consulting and recruitment support services, offering expert guidance and help to make sure your interview process runs successfully.
A recruiter might be of great assistance in discovering such unique features. We are able to find talent that you might never have even considered because it is our job to be aware of current and forthcoming trends and news in the business.
Is it beneficial to work with a recruitment agency?
To start, it can save both time and money.
Using a recruitment agency will save your company time and money and be faster than hiring internally. To save employers time and effort, recruiters gather and evaluate CVs, examine references, and screen talented job applicants using the most effective interviewing techniques.
Greater Access to Reliable Talent.
You run the risk of failing to locate the ideal applicant for any high-performance positions that call for a lot of talent and skill. By collaborating with a recruitment firm, you can solve this problem quickly. You can reach professionals who would otherwise be hard to find through conventional advertising by using recruitment firms, which actively seek out new talent.
Expert Assistance and Advice.
The foundation on which recruitment firms are established is the provision of quality workers to companies. It follows that it is not surprising that agencies require expertise in this area. The advantage of this is that you can be confident that a specialist agency can give you expertise and help that is far beyond what your company can produce on its own.
Facilitate Salary Discussions.
One of the most contentious issues that a potential employer and employee must negotiate is salary. Using a recruitment agency is one of the finest methods to cope with a prospect whose expectations are too high. The agency will make sure that prospective employees are well informed about the pay scale your company offers.
Support and guidance.
A recruitment agency is only as good as its recruiters; they have a thorough understanding of the job market, are pros at interviewing and skill evaluations, are familiar with the demands of their clients, and know how to make you stand out in the eyes of potential employers.
Is it beneficial to work with recruitment agencies for candidates?
Only your resume or profile must be registered
The first step in the procedure is to register your CV or online profile with the recruiting firm of your choosing. Some only ask that you provide your cv or make a profile on their website, while others just want you to get in touch. Then they would get in touch with you and assist you in setting up a profile on their database. Your education, talents, experience, and other details that affect the positions available for which they recommend you; such as your ideal position, preferred salary, and ability to relocate. Will all be included in this profile.
Unpaid Assistance
There is no charge for submitting your CV to a hiring company. Allowing a recruiting firm to assist you while you begin your job hunt won't cost you anything, and you can continue sending your resume wherever you'd want.
Possibility of a Successful Career Launch
Beginning your career in a position with a recognised organisation might hasten your advancement. When you still lack experience, a recruitment agency is your greatest chance to land such a position.
Up until you land a job, the agency remains active
Standard probationary periods are frequently included in employment contracts so that you and your new employer can assess if you two are happy with the arrangement. The contract is terminated and you both return to the agency's talent pool if either of you decides not to work together after the probationary period. During this time, the agency keeps in touch with you and the employer and manages various contractual and human resources issues.
Create New Connections
Even if an interview does not result in a new job, it is still a very worthwhile opportunity to network and meet new people in your field. You never know when you'll run across the same people in your professional life again.
By managing the chores of locating top talent, screening individuals, and presenting the top candidates to clients, recruitment firms serve as the link between employers and employees.

References:
https://www.mrkassociates.co.uk/employer-advice/5-business-advantages-using-a-recruitment-agency/#:~:text=5)%20They%20Ease%20Salary%20Discussions
https://www.mrkassociates.co.uk/employer-advice/5-business-advantages-using-a-recruitment-agency
https://www.cpl.com/blog/2017/07/5-benefits-of-using-a-recruitment-agency?source=google.com
https://keyrecruitment.co.za/the-advantages-of-using-a-recruitment-agency-for-employers-and-candidates/
https://energyresourcing.com/blog/7-advantages-using-recruitment-agency/
https://www.coburgbanks.co.uk/blog/attracting-staff/6-benefits-of-using-a-recruitment-agency/
https://www.annecorder.co.uk/job-seeker-resources/benefits-of-using-a-recruitment-agency/

Interview preparation:
Reread the job description numerous times to ensure that you can discuss the position and its requirements in-depth without feeling awkward. Consider how your knowledge can be used to demonstrate the needed competencies.
Examine and understand your CV. You amazed a recruiter with it because it's what brought you to this point. Be mindful that your interviewer might not have read it carefully or remembered it, so be prepared to jog their memory during the interview.
Your interview attire sets the tone for how you present yourself professionally to potential employers. If you don't dress adequately for an interview, it doesn't matter how good you seem on paper; it conveys a lack of respect for both yourself and the people you are meeting.
Know the company:
Finding out information about the business or organisation you are interviewing with is another aspect of being prepared. Get a sense of its company philosophy and methodologies.
Speaking skills:
A job interview is comparable to an acting audition. Interview session, you should consider your speaking abilities and practise them. Practice mindful speaking while taking a deep breath. Speak clearly, be composed, and keep in mind that your interviewer should be able to clearly hear every word you say. Your words will be better understood and others will respect your self-assurance if you talk slowly and confidently. In addition, eye contact is crucial. Both of those things establish a connection between you and your interviewers. Shake hands and smile as you say "hello" to the interviewer. Also, observe maintaining eye contact.
Think first, speak second:
Before responding to a question, pause for a second to collect your thoughts. You'll have enough time to think things through and maintain your composure. Consider your body language while you speak up. Moreover, moving your shoulders away from your ears not only exudes confidence, but it also makes breathing easier and improves vocal projection.
Listening:
It's crucial to demonstrate your capacity for attentive listening. Your capacity for contemplation and teamwork is demonstrated by your ability to listen. Keep your focus on the present and approach the interviewer with respect.
Interview with Rafaela Zenonos, Head of Recruitment
Rafaela, as the Head of Recruitment at UGBS, what are your main tasks?
I am responsible for the provision of recruitment services to external customers of Uniteam Global Business Services. My primary responsibilities are to seek out and hire professionals with the right combination of experience, education and skills, in order to fill vacancies of UGBS customers. Further, I am responsible for the development and cultivation of relationships with existing and prospective customers.
In June 2021, UGBS launched a recruitment platform under the umbrella of Uniteam Recruitment Services (URS). Can you tell us a bit about the platform?
I can proudly say that we have created a user-friendly recruitment platform which allows all job seekers and employers to have access to our services and find all the information they need about our services. Through our website, jobseekers can explore all available vacancies. They can also request a quotation about our CV writing and interview coaching services, as well as our professional LinkedIn profile writing services. What's more, they can contact us for general career guidance.
On the other hand, employers can explore our Value Plans, which are designed based on the size of the company, employer recruitment needs and so on. Of course, we offer flexible solutions, and can create a customized value plan for an employer based on their unique recruitment needs.

What kind of jobs does URS provide?
Jobseekers can apply for any job based on their specific area of their interest. We serve customers from a range of industries, including forex, finance, hospitality, retail, shipping, technology and training.
Is the platform for job seekers only? Where do you get the vacancies from?
The platform is designed to serve job seekers of all levels, whether you are just starting out your career or are seeking a career change. Our services are also designed for people who would like to build a better CV, or improve their interview skills. What's more, we cater to individuals who would like to create or improve their LinkedIn profile in order to enhance their possibilities of being noticed and contacted by recruiters. We also provide services to individuals who would like career guidance based on their background. In addition, the platform can be used by employers who would like to save time and avoid any hassle during the recruitment process.
All our vacancies are provided by our clients. Job descriptions are created based on the specifications of the employer.
Who can apply?
Anyone can visit and apply through our website, from any country, any profession and any background. There are no limitations, as the jobseeker is able to choose their area of interest and proceed with the application based on the requirements of the position.
If I do not match a job profile 100%, but would like to apply for the job, can I still do so?
I believe that no one can match a job description 100%, but there are some key requirements for each position that a suitable candidate should have. One of the benefits that a candidate has while using a recruitment agency is that there is not only one position available. This means that a candidate might not match a job profile and vice versa, however, we will search for other relevant positions on our platform which are suitable for our candidates. Candidates can also upload their CV onto our platform, without applying for a specific position, which is something we encourage candidates to do.
What should be included in the application letter to set a candidate apart from other job seekers?
For me, personally, an application needs to respond specifically to the job description in question, and to explain why the candidate is suitable for the job. It needs to include background information about the candidate, and explain how the individual has developed their career. Any relevant training and seminars are also useful, as they allow the recruiter to identify whether the candidate has knowledge of specific topics. Candidates must demonstrate that they are able to carry out the responsibilities of the position they are applying for, as this will validate their areas of expertise.
You also provide interview services. How do these services work?
First impression matters in an interview! Our goal is to equip each candidate with the tools and skills they need in order to be fully prepared for the interview. Based on the job they are interviewing for, we prepare the candidate for every stage of the interview, from how to answer possible questions, increase their confidence and prepare responses to a range of potential questions. After this, we then conduct a job interview role play session with the individual, which is then followed by constructive feedback from our expert consultants. The purpose of the role play session is to provide specific guidance in direct response to the candidate's actions, words and behaviours.
Where do you see URS in five years?
Employees are the most valuable, fundamental asset of any business! I am certain that our company will continue to progress by investing in our people. Based on the progression that we've experienced so far, there's every reason to believe that we will expand our horizons worldwide. We remain afloat of the latest market trends and new technologies. I am also confident that in five years from now, we will be able to expand our clientele in other countries, and continue to grow as a team. This makes us a strong and capable competitor in the market of recruitment agencies in Cyprus.
Interview with Romanos Yiangoudakis, Global Head of Human Resources
Romanos, you are the Global Head of Human Resources. What kind of services do you provide and for which industries?
We are a licensed recruitment agency, and addressing, both the needs of the customer and the skills of the candidates in a very structured and business-minded way. We have the ability and experience to recognise and approach the talents of today and tomorrow, by performing thorough market research and evaluating candidates at many levels.
Our many years of experience and the deep knowledge and experience of our team enables us to understand and evaluate the trends in new roles, in the Cyprus market, to transfer this experience to our customers for their own industry and to fill their positions with talented individuals.
We do not have any restrictions on the industries we focus on. Our customers come from a range of industries including shipping, training, hospitality, technology and much more.
We also provide customised HR advisory services designed to meet our client's ever-changing needs. From performance and development systems to any HR policy that our customers wish, we remain committed to building lasting relationships with each and every one of our clients, helping them to place their people high on their agenda.
In addition to supporting companies with suitable employees, Uniteam Recruitment Services has launched a recruitment platform. How does it work?
Yes, we have a very user-friendly recruitment platform: www.uniteamrecruitment.com. Candidates can explore the positions we have available on our website and apply for any position they are interested in, through our platform.
It's an easy application process and candidates can rest assured that their data is landing in a secure and GDPR-compliant platform.
As a job seeker, can I submit my application even if I haven't seen a suitable vacancy on the recruitment platform?
Yes, all candidates can submit their applications on our platform even if there is no current position that matches with their skills.
At the time of application, candidates shall register their area of interest and some other details. Our recruitment team then contacts them and try to understand their interests and find the perfect job for them.
What are your five tips for a successful job interview?
I could spend hours answering this question! I have interviewed many people in my career and I can suggest lots of tips and provide lots of examples. However, as I have to mention five I would suggest the following:
Know the position you're applying for. Research the business, your interviewer and the role in depth. .
Be prepared to answer task-related questions and explain what your role was and what was the outcome.
Know which of your skills and competencies correspond to the position.
Listen carefully and take your time with your answers; avoid answering with a simple yes or no.
Maintain eye contact throughout the interview. Body language is important!